American Hinge
In the tradition of exceptional American craftsmanship, American Hinge focuses on bringing you only the best hinge products and accessories.
We have every hinge you could possibly need, whether it's a hinge for your barn door, stall door, or kitchen door. Large or small, fancy or simple, no hinge job is too difficult for us. Our American-made hinges come in a variety of styles and sizes to ensure that you get exactly what it is that you want, from a simple hinge to open your door to a real statement accessory for your barn.

We offer many different types of hinges, such as, but not limited to:

• Spear-head Hinges
• Antique style Hinges
• Barn Hinges
• Custom-made Hinges
• Hammered and Non-Hammered hinges
• Decorative Hinges and much more!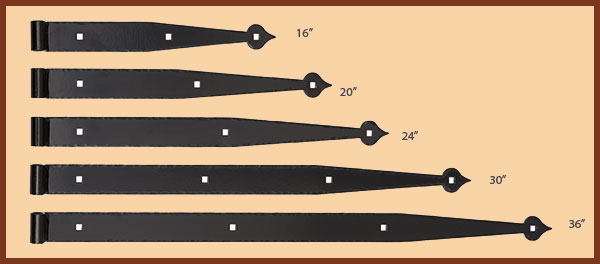 Each one of our hinges goes through a three step powder coating process, which out-performs single coat powder coating every time. Our process gives our hinges the durability to pass the 3,000 hour salt spray test.

1. Our base metal is first cleaned by steel shot blasting

2. A base coat of zinc-rich primer is applied to protect against scratches. By using this zinc based primer, our powder coating has proven to last twice as long as a single coat.

3. A top coat of super durable semi-gloss is applied to finish the process, giving you the best and most durable finish available.

| | |
| --- | --- |
| 100 Series Hinges 9/16" Peg | |

Barn hardware is one of the most important parts of your barn, and nothing is too small to be customized to your exact flavor. If you're embracing country, modern, rustic, or a style all your own, we can make a hinge to match. Maybe you want hinges in the shape of horses— we can do that. Maybe you just want a simple hinge that is going to get the job done— we can do that too. Whatever you want, come to American Hinge, where your needs and expectations will always be met.